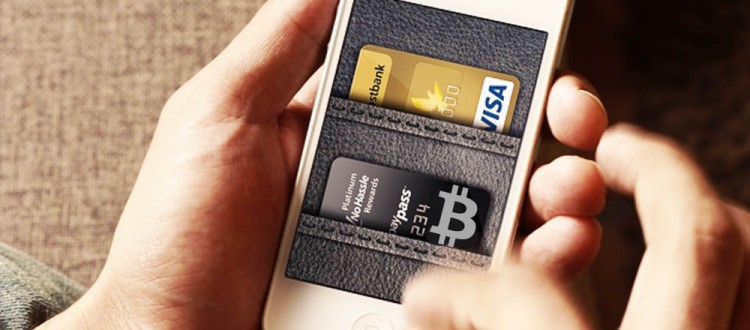 The F8 Developers Conference
Facebook's Mark Zuckerberg just reported the company's 10-year plan to partner with the developer community to build a robust ecosystem of apps. These apps will allow businesses to connect more directly with their customers and integrate their offerings into closed social media platforms. For B2B and B2C businesses alike, the new APIs will change the way organizations are able to target, connect, broadcast and share their brand.
The one highlight of the Facebook conference was the rollout of their "Messenger" Platform (similar to WhatsApp, LINE, Kik and GroupMe) and integrated API's for developers. This is one of a new array of tools that businesses will be using to transform and simplify the selling and servicing of customers.
The Messenger Platform
With the rise of messaging apps and bots, the way many of us use social media to share and interact is fundamentally changing.
Facebook has now opened its Messenger App to allow businesses the opportunity to connect with customers in new and unique ways with services from subscription automation to customized communications to e-commerce purchases.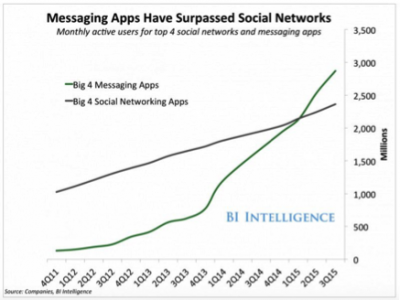 As we progress through 2016, and beyond we'll start to notice most social activity is no longer going to happen in public, instead transitioning to private groups and messaging apps. This represents a significant change in what "social media" currently represents, as we now tighten our communication circles to key groups of friends and families, instead of our thousands of Facebook friends.
This is a change that will challenge everything we've learned about social media over the past decade-or-so. Until now, standing out in timelines and news feeds typified by Facebook, LinkedIn and Twitter has been the primary goal of most social media strategies. But, what about when these feeds are no longer the first place people turn for discovery and interaction?
"Messaging is one of the few things that people do more than social networking."
As one-to-one messaging begins to dominate the social media world, it creates a whole host of new questions, challenges, and opportunities for marketers. The view of social media is changing as we move into "Dark Social Channels" to target customers. To combat this behavior is a new set of BOTS (A BOT – short for "robot" – is a program that operates as an agent for a user or another program or simulates a human activity) that businesses can use to provide important and relevant information to their customers. While customers must opt into using a bot, once they do, your business can gain access to important traditional and dark social content, allowing your bot to perform much needed customer service tasks as well as automate selling.
The Facebook App uses algorithms to help you predict next actions to support your customer. For example, with the bots API you can actually parse messages in a conversation string into actionable data to predict the next action your bot should execute.
By integrating Chatbots with Messenger, Facebook eliminates the need for consumers to download a business's APP and can even bypass using the phone to call them for information or even to order! This video gives you a sense of how it works.
"Look at the traditional e-commerce journey: you go to a website. You have to create an account – that's one email. You add something to your shopping cart and check out – that's another email. The package ships – that's another email. When it arrives, that's another. That's four emails that are distinct threads that are not canonical. And the only thing you can do for interactions inside an email is click on a link and go to a website, where you have to re-authenticate."
David Marcus, Facebook
Chatbots can be used either through text or speaking to help users attain the right answers to their questions and responses can be in either text or voice as well. You most likely have already experienced a Chatbot in phone systems that requests you say a number or word to proceed. Most of us have experience with the most widely used Chatbot today… Apple's SIRI. Now imagine applying SIRI's services to your business.
While Facebook focuses on its Messenger Chatbot opportunities, you can strategize on many broader applications and implications of leveraging this technology for marketing and business.
Chatbot (AI) Enabled Services
While digital personal assistants (ChatBots) like "Google Now" and "24me" are great at personal lifestyle needs, your business can look to take the drudgery out of conducting business with your company by helping customers eliminate unwanted administrative tasks they don't enjoy doing or by adding a layer of unexpected service!
So how can your business use ChatBots to improve sales, customer service, or user experiences? There are actually a broad range of opportunities. Here are just a few ideas:
You can have your FAQ section integrated a Virtual Customer Service Representative, allowing customers to ask and get answers verbally
For shopping sites, you can have a Search Bot help identify and store search parameters using multiple variables like size, color, price and style
Allow customers to request and add delivery times to their calendars with tracking information, automatically
Travel industry services can include everything from weather updates on destination, to flight delays, to automated check-ins
Companies like Uber are creating bots to read your calendar and offer you a car when you land at a destination
Sports bars can feed you updates and scores of your teams during the day
Restaurants can use bots to send you when to leave your current destination based upon wait time for you reservations
Delivery/Service companies can provide REAL TIME to delivery for food or service calls to your home
Parking meters can send you a time to expiration countdown, with automatic digital payments
Ticket (sports/concert/shows) companies can alert you and save seats based upon real time availably to your most desired events
Food stores can generate a recipe based upon specific ingredients
Large General Contractors can automate time to arrive schedules for staff based upon real time completion of scheduled work
Ecommerce, Food, Financial and Content Chatbots are just a few of the categories we will see ourselves interacting with very shortly. With the advent of ChatBots, you and your company can forget about building custom apps and leverage the new AI API's and tools that the leading technology companies are providing us with today!
The transition from public social media to chat apps could be the biggest change in internet culture and marketing since social media itself. However, it's still not clear exactly how brands will be able to maximize the opportunities presented by messaging apps.
Consumers consider messaging apps as more private than social media and may not react too well to the traditional interruption advertising model where brands pop up in their inbox without permission; though it's rumored that ads could be coming to Facebook Messenger.
Organic engagement on many social channels is in decline, but at its heart, social media has always been about connecting with people one-to-one. That'll never change. What will change are the strategies and platforms we use to connect.
As customers transition to private messaging, it's essential for marketers to remember that above all else, messaging interactions are opt-in experiences, much like email lists. And with permission also comes a higher set of expectations.
Content delivered through messaging apps and bots will need to be relevant and more personalized than a Facebook post to your whole audience, and oftentimes users will need a reason to engage in a conversation or opt-in.
So, while branding is still the key to opening your customers' minds, here comes another channel to work on so you can still open their "Digital" wallets.