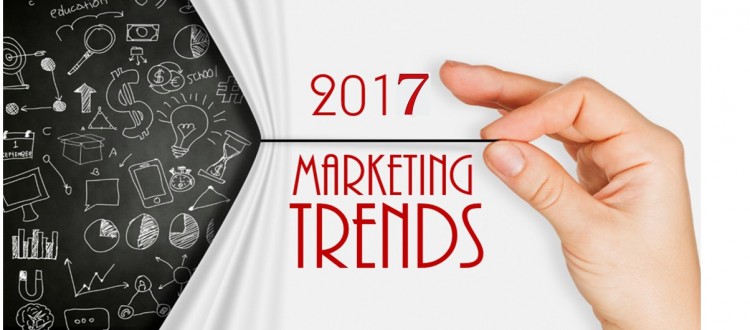 17 Marketing Trends for 2017
Every new year we all take a look at what we need to focus on to improve our business. I have assembled the top trends that I think will be the most important for both B2B and B2C marketers.
Enjoy!
1. Data Driven Marketing
Using company data, public data and purchased data is the key to successful marketing today. There are two types of marketers: those who want to use what's popular and those who use what works, regardless of whether it's popular or not. Data tells you what's really moving the needle, and the truth is that every marketer needs to be conscious of it. If you aren't fluent in predictive modeling… you're going to lose out.
2. Influencer Marketing
What's more effective than an ad in selling your product? A lovable social media personality speaking highly about your product to his or her fans and followers. Just like a brand may create sales channels, influencer marketing is simply another marketing channel and it's on the rise because people tend to trust recommendations from people they see as thought leaders. The right influencers establish credibility through each social media post or advertisement. Just be careful on who you pick!
3. Mobile Video
Have you looked at your Facebook feed recently? Chances are that 95% of it is video. And here's a fun stat: mobile video views grew six times faster than desktop views in 2015. In fact, in 2016, mobile video views exceeded desktop views for the first time ever. We now live in an age of mobile video, and it's time we embraced it.
4. Livestreaming
Although there are still kinks in this technology, it's clear that live streaming will continue to push the boundaries. A big step in this direction was Instagram's integration of a live stream option into its Stories feature. We're going to see a lot more live broadcasts in 2017. If you run events, this is a must to add to the programming.
5. Chatbots
I spoke heavily about chatbots in my April 2016 Post. "When you think of chatbots, you probably think of an annoying popup on a website that looks like it was built in the mid-'90s. Chatbot technology has become much more sophisticated. A great example is the behemoth Facebook, which invests a significant amount of resources into bot programs that provide users with news updates, personalized responses and more. Are you talking to a human or a bot? If you can't tell, then the bot is working as intended. You customer services levels will increase exponentially with chatbots.
6. Virtual and augmented reality
Trying on a new pair of glasses or pants, see yourself in the right at home! Traveling to Paris, point your camera at a landmark and get the history of the Arc de Triomphe. Want to climb Mount Everest or fly to the moon… no problem. This has become a seriously viable option for marketers looking to bring the online into the real world.
7. Short-lived content
What gives Snapchat its appeal? The fact that the content disappears. Snapchat's rampant rise in popularity did a lot more for the world of social media than just give users another platform to choose from. It showed the value of disappearing or short-lived content. This is a key attraction for Generation Z, the cohort famous for having an eight-second attention span, and is why you should be integrating short-lived content into your content strategy.
8. Mobile First Strategy
The future is mobile. Internet traffic is now coming more from mobile devices than desktops. If you're not catering your content, ads and online experience to a mobile user, then you are missing a massive opportunity. And remember: It's not just about "optimizing" for mobile; it's also about making sure that piece of content gets integrated with a user's lifestyle on the go.
9. Personalization
Personalization means segmenting your content to reach different types of audience members based on their preferences, habits, etc. Add in Lead Nurturing technologies like Marketo and you can actually customize content on a one to one basis. Personalization is a huge win for brands looking to earn the attention of their consumers.
10. Native Advertising
Viewers, followers, and consumers are getting wise to the tricks of advertisers, and it's becoming harder and harder to maintain their attention and earn their trust. Native advertising means integrating your advertising efforts into content that already provides value to readers and viewers. For this reason, it tends to be more effective. Look for ways to weave your products and offerings into a larger narrative, instead of just blasting people with ads.
11. Marketing Automation
Why do the same thing over and over again when you can do it once and automate the rest? Automation is becoming extremely powerful (and popular) among marketers and businesses who are looking to scale and expand past trading hours. As apps such as Marketo become more intuitive and affordable, automation will become more common.
12. Purpose Driven Marketing
One of the most effective ways to extend your story is to give it a feel-good element. Brands that partner with nonprofits or charities, or set up internal programs that "give back" in some way (TOMS shoes comes to mind) have a much stronger presence because their story resonates with the hearts of consumers.
13. Interactive Content
There's content you can read, and then there's content you can interact with. The second variety tends to be more popular. Think of ways to get readers to actively participate instead of passively consume. Provide real-time feedback while engaging if possible. Interactive content can include assessments, polls, surveys, infographics, brackets and contests.
14. Social Media "Buy" Buttons
We are moving into an age where purchasing doesn't need to happen on a third-party site. Users are on a social platform, so why should they have to leave in order to buy something? "Buy" buttons are quickly turning social media sites such as Facebook and Pinterest into social shopping experiences. Integrating this into your current platform will become a must for 2017.
15. Dark Social
The hardest part about tracking traffic, conversions, and shares is that you're not always sure what the sources are. With the rise of encrypted and private messaging apps (where people still share lots of content with each other), you may want to invest in tools, such as Google Analytics and GetSocial.io, that can measure, to some degree, where this "dark" traffic is coming from.
16. Embrace The lOT
Should your thermostat talk to you? How about a refrigerator that informs you when you're low on milk, and then gives you the option to place an order immediately? Everyday objects are beginning to connect to the internet, and this trend is going to open doors for brands and marketers to integrate with the everyday lives of consumers. Watch this trend closely, because it's going to boom!
17. Beyond Viewability: Real Performance
Currently, most companies use viewability to measure to their success. Instead of solely focusing on views or clicks, companies should measure their ROI on things such as sign-ups, downloads, and purchases. This requires going beyond CPMs and looking at the performance-based metrics and channel attribution instead.